GPS Anti-jam and the Latest in Sensor Fusion Testing
January 2021 | On-demand
Tags: GPS Interference, Sensor Fusion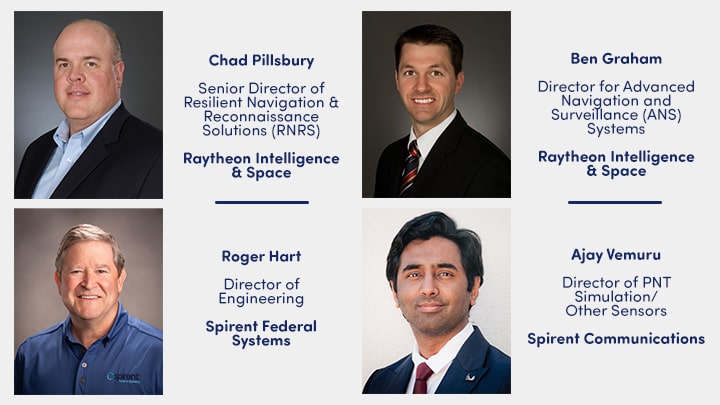 ---
In this webinar, we will discuss the merger that formed Raytheon Technologies, the critical importance of GPS anti-jam solutions, new methods to interface non-GNSS sensors into a GNSS test suite, how precise time synchronization improves sensor use, and the latest in sensor fusion testing.
Raytheon Intelligence & Space
Join Chad Pillsbury and Ben Graham, senior director and deputy director, for Raytheon Intelligence & Space's Resilient Navigation and Reconnaissance Solutions business, as they discuss the merger of United Technologies and Raytheon Company to form Raytheon Technologies, as well as GPS anti-jam, sensors, artificial intelligence and time transfer.
Why GPS anti-jam solutions are of crucial importance to operating in GPS contested and denied environments;
Advantages of an optimized sensor suite and their benefit to the warfighter of today and tomorrow; and
How precise time synchronization improves sensor use, enables data link participation and grants access to a common operating picture network
Spirent Federal Systems
Roger Hart, Director of Engineering at Spirent Federal, discusses existing capabilities in the area of non-GNSS sensors and new product developments.
Introduction of an open source Ethernet protocol to simplify integration of new and existing sensors into a GNSS test suite
Spirent Communications
Ajay Vemuru, Product Manager at Spirent Communications, discusses sensor fusion testing using a simulation framework, including GNSS, IMU/INS, Baro, Compass, etc…
Value of simulating model specific error characteristics for each of the sensors;
How can realistic vehicle dynamics and trajectories be fed into the simulation framework; and
How we use cutting-edge ray tracing algorithms to add deterministic yet realistic multipath simulation to aid multipath mitigation
View Event