Test Considerations for LEO Constellations and LEO-enabled Equipment
Jan 2023 | On-demand Now
Tags: LEO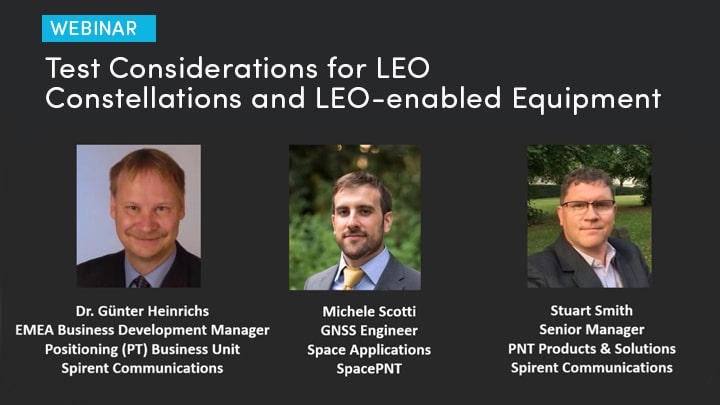 ---
As our skies become more populated with Low Earth Orbit (LEO) satellites, what technical considerations exist for their design and testing?
Watch this on-demand webinar to learn about:
Utilizing GNSS signals in Low Earth Orbit and test protocols—how to test with a much lower horizon, modeling antenna patterns, modeling vehicle motion and the need to test for very high precision.
Designing receivers for use in space—understand design processes for building space-based equipment.
Building a lab test environment for LEO constellations—what are the challenges in modeling for the space environment and how they differ from other operational environments.
Expert panel:
Dr. Günter Heinrichs, EMEA Business Development Manager, Positioning (PT) Business Unit, Spirent Communications
Stuart Smith, Senior Manager, PNT Products & Solutions, Spirent Communications
Michele Scotti, GNSS Engineer, Space Applications, SpacePNT
Watch Now